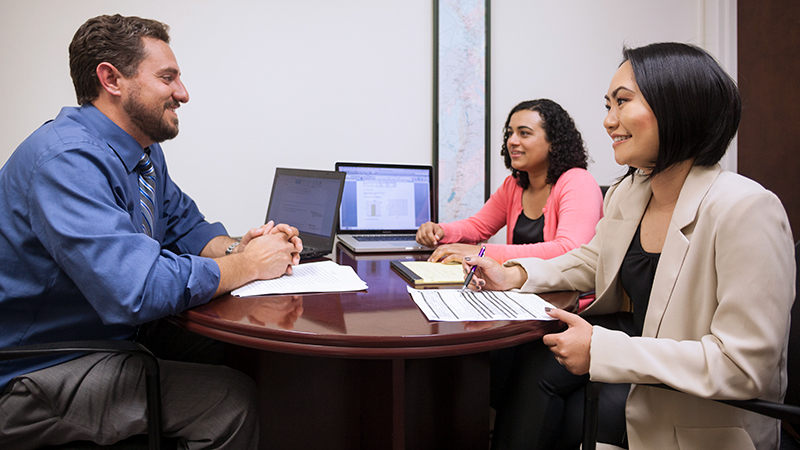 Adequate support is vital to the campus life experience. Students have access to the support resources listed below.
Academic Resources
All students are assigned an academic advisor at the time they are accepted into one of the School of Behavioral Health programs. Academic advisors assist students in navigating the curriculum plan and clinical requirements for their specific programs. Students are also encouraged to consult with and use their academic advisors as professional mentors.
Students requesting tutoring and writing support should discuss their needs and available resources with their academic advisor. Each department within the School has identified resources that are specific to the programs in that department. In some cases, student organizations within the departments have also established academic peer support and mentoring that students are encouraged to use.
Disability Accommodations
For students who need special accommodations, these are provided in accordance with the Americans with Disabilities Act (ADA), Sec. 504 of the Rehabilitation Act. Accommodations may be requested by completing the SBH Request for Academic Accommodation for Students with Disabilities form.
Emotional Support
These services are available through the Student Assistance Program, which offers nine therapy sessions at no cost.
Students are encouraged to speak with their faculty advisors, program directors, or department chairs if additional or other assistance in seeking services is needed.
Dr. Winetta Oloo, Associate Dean for Academic and Student Affairs, is also available to assist students seeking emotional support services.
Mindfulness with SBH
The School of Behavioral Health and the Department of Psychology provide ongoing open mindfulness drop-in groups on Thursdays from 11:00-11:30 AM. Research shows that the practice of mindfulness improves resilience and well-being and reduces worry and stress, among many other benefits.
Social Support
There are many student groups on campus that offer specialized social support, including, but not limited to:
African Network (AfriNet)
Association of Latin American Students (ALAS)
Black Health Professional Student Association (BHPSA)
Sexuality and Gender Alliance (SAGA)
Learning Opportunities
Loma Linda University and its Schools offer numerous options for additional education beyond the classroom. The Wil Alexander Wholeness Series workshops, which are held throughout the year, focus on topics relating to wholeness, wellness, spirituality, and professional development.
Students are also encouraged to take advantage of the leading edge presentations and discussions that are sponsored by the Center for Bioethics Grand Rounds. Both upcoming and archived programming is available for viewing on their website.
The Institute for Health Policy Leadership (IHPL) is another resource that students may want to become familiar with. The IHPL develops informative policy briefs regarding bills before both the Federal and State Legislatures, many of which have gathered significant national attention. They review the specifics of pending bills, examining supporters and opponents, their rationale, and the bills' implication for health systems, including legislation impacting behavioral health services. Faculty from the School of Behavioral Health support the efforts of the IHPL. Policy briefs are available on their website.
Each year, a campus-wide Homecoming event is sponsored by the University. During this special weekend, alumni, faculty, and students have the opportunity to attend numerous workshops in the areas of physical and behavioral health.
Each of the departments in the School of Behavioral Health regularly invites experts in behavioral health to discuss the issues and needs of special populations, service development, policies and research. Students are encouraged to take advantage of the many free and low cost local and regional conferences hosted by local organizations. Students can learn about these through their departments and clinical practice supervisors. Students working with their professors on research projects are encouraged to present at both regional and national events. Some funding is available to assist students attending previously approved and department-supported events.