Alumni Magazine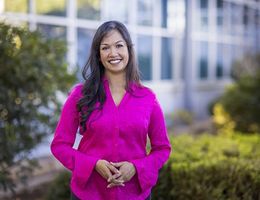 The 2020 issue features many wonderful alumni, including Amrita Rai, Marquita LaGarde, and Josh & Deborah Dambara!
Read Now
SBH Zoom Virtual Backgrounds
How to enable Zoom virtual backgrounds:
While in a Zoom meeting, click the arrow next to the Start/Stop Video button.
Click "Choose a virtual background..."
Choose or upload the background you want to use, then click "Done."
We're here for you!
Read a special message for alumni from Dean Beverly Buckles on COVID-19.
---
Ways to connect with us:
---
Watch as Dr. Michelle Karume explains what the Loma Linda University School of Behavioral Health means to her: