COAMFTE requires accredited programs to provide Student Achievement data, starting with the year the program becomes accredited or over the most recent 10 years. The following table provides all Student Achievement data for the Doctor of Marital and Family Therapy program.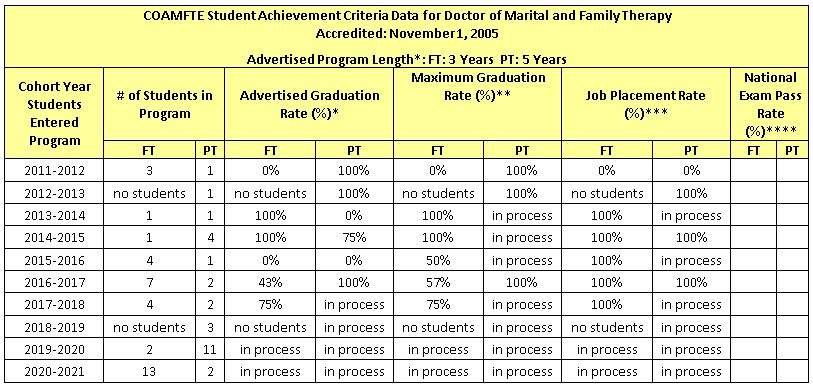 FT=Full-time
PT=Part-time
Programs are only required to provide data on the past 10 years/cohort or since the program was initial accredited, whichever is shorter. 
*Programs should report graduation rates for program's Advertised Length of Completion which is how long the program is designed to complete as written.  
**Programs applying for initial or renewal of accreditation are required to publish the following in their SAC table: (1) the maximum length of program completion (years only) and (2) graduation rates for maximum length of program completion (maximum allowable time in which a student must finish the program). Programs in Maintenance of Accreditation are encouraged to continue publishing the graduation rates for maximum length of completion but are not required to do so.
***Master's and Doctoral programs are required to provide this information. Job Placement Rates by cohort is defined as the percentage of graduates from the cohort year listed that are employed utilizing skills learned in the COAMFTE-accredited program. 
****Master's programs are required to provide this information. Doctoral and Post-Degree programs are encouraged to share this with the public. For Master's programs only, COAMFTE has established a benchmark of 70% pass rate for each cohort. Programs in California can use the California Law and Ethics exam for MFTs to meet this requirement. Master's programs can add a column if they have International students that do not take the exam or if they have students that take either the National Exam or the California Exam.
Contextual Information for 0% Entries
2011-2012
Advertised Graduation Rate—3 FT students withdrew from the program
Maximum Graduation Rate—Due to program withdrawal no FT students graduated from this cohort
2013-2014
Advertised Graduation Rate—1 PT student enrolled in this cohort has not graduated in the advertised length of program and is still in progress
2015-2016
Advertised Graduation Rate—2 FT students enrolled in this cohort withdrew from the program and 2 FT students enrolled in this cohort graduated but not in the advertised length of time
Our Faculty
Each faculty member within the department of Counseling and Family Sciences supports the mission, goals and learning outcomes of the Doctor of Marital and Family program as well as the mission and values of the university. Although our educational backgrounds represent various disciplines, we share a common respect for and belief in systemic-relational thinking and evidence-based practice. This is demonstrated by our efforts in reviewing and voting on individual program policies as well as accreditation, involvement in various ongoing presentation and publication efforts, advocating and modeling a systems-relational perspective in clinical practice and supervision of students both in and outside of the classroom.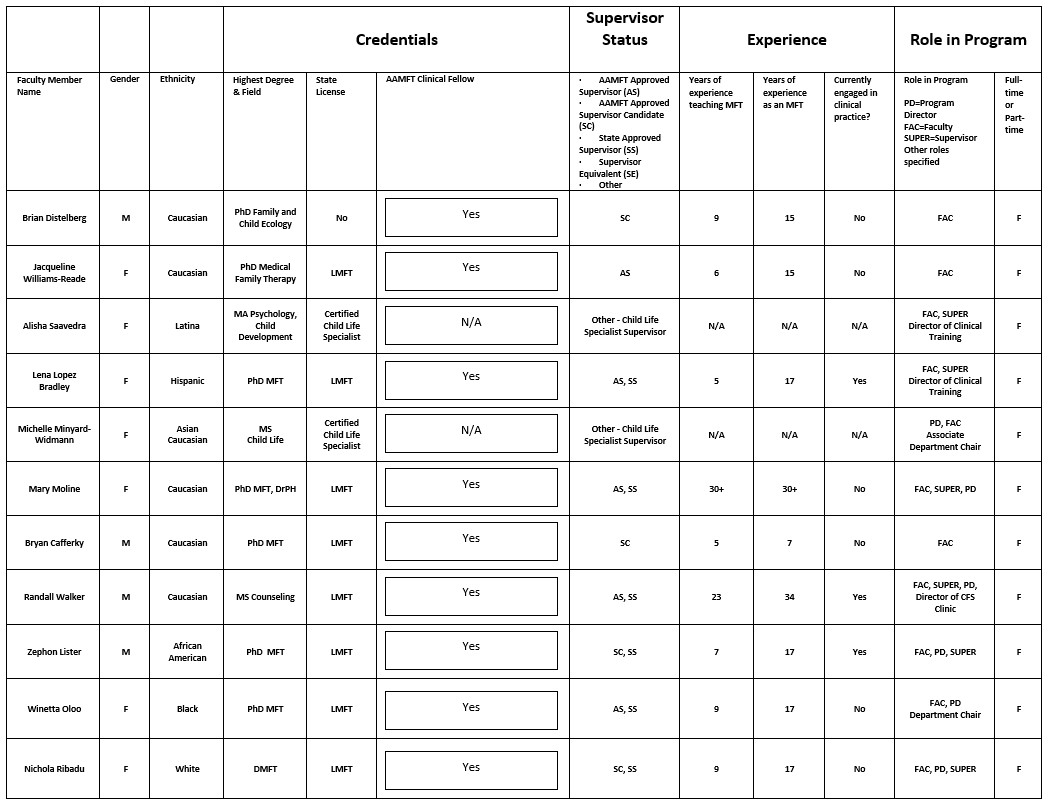 Demographics
The DMFT program is committed to attracting and retaining a diverse student, faculty, and supervisor body. We believe that it is this diversity that helps us to provide an open educational environment that seeks to advance the field of Marriage and Family Therapy in consideration of all families. Our current student body demographics are:
| | |
| --- | --- |
| Gender |   |
| Male | 5.00% |
| Female | 95.00% |
| Ethnicity |   |
| Hispanic | 29.40% |
| White | 29.40% |
| Black | 35.20% |
| Asian | 5.88% |
| Enrollment Status |   |
| Full-Time | 47.10% |
| Part-Time | 52.90% |
| Age |   |
| 20-25 | 11.70% |
| 26-30 | 35.30% |
| 31-35 | 23.50% |
| 36-40 | 11.70% |
| 41+ | 17.60% |
Our current faculty and clinical supervisor demographics are:

Marital and Family Therapy (DMFT Online)