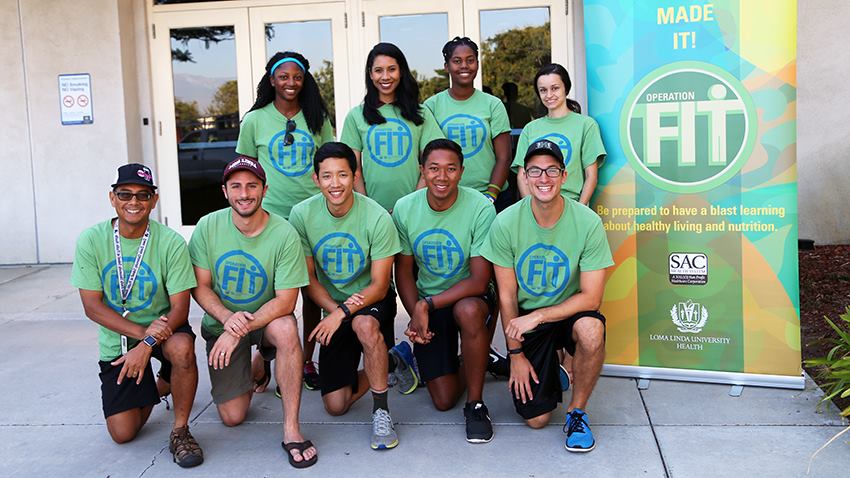 By Catherine Sanner (Psychology PhD student) - October 26, 2017
Operation Fit Camp is a series of one-week camps for children ages 9-15 that focus on teaching healthy eating and physical activity behaviors in order to give children and families the resources to live healthier lives. Since Operation Fit was developed 10 years ago, over 1,000 children have attended the student led camp at Loma Linda University Health.
Over the past few years, children with intellectual and developmental disabilities (IDD) have attended the 2nd week of Operation Fit camp led by Cameron Neece, PhD, Associate Professor of Psychology, with Catie Sanner, MA and Lilit Hovsepyan, MA, both doctoral students in the Department of Psychology at Loma Linda University. This camp was adapted for children with disabilities in order to address the clinical need for health interventions for obesity in this population. While children with IDD are at higher risk for obesity than typically developing children, there are very few health based interventions for this population. This camp based intervention is, to our knowledge, the first camp-based intervention for children with IDD and obesity. Dr. Neece and her team have presented findings from the first two years of camps at several national conferences, and findings have indicated a need for increased parent involvement in the camp.
This past summer, parents of children that attended the IDD week of camp participated in a daily two-hour long parent health education group that was created in order to teach parents health information taught to their children during the camp. This parent health education group was developed and led by Catie Sanner, and was based upon previous research in interventions for pediatric obesity, as well as feedback from parents of children that previously attended the camp. Parents learned nutrition and physical activity information, as well as behavior management skills specific to eating behaviors in order to better help their children achieve their health goals following the camp.
Each summer, medical students, nutrition students, and pediatric residents staff the camp, while numerous psychology students provide one-to-one behavior management for the kids. Medical students engage the children in physical activities to encourage healthy habits and healthy living, while nutrition students prepare meals and snacks and made nutrition lessons fun for the kids. This camp is truly an interdisciplinary collaboration. Activities throughout the weeks of camp include nutrition knowledge relays, scavenger hunts, swimming, sports activities, and many more active games and learning experiences. Over the course of three summers, more than 60 children with IDD and their parents have been able to attend and learn health and physical activity, and camp alumni have provided positive feedback about their experiences at camp. Dr. Neece and her research team hope that the findings from this camp help to inform health interventions for children with IDD in the future, and that many more children can benefit from Operation Fit.