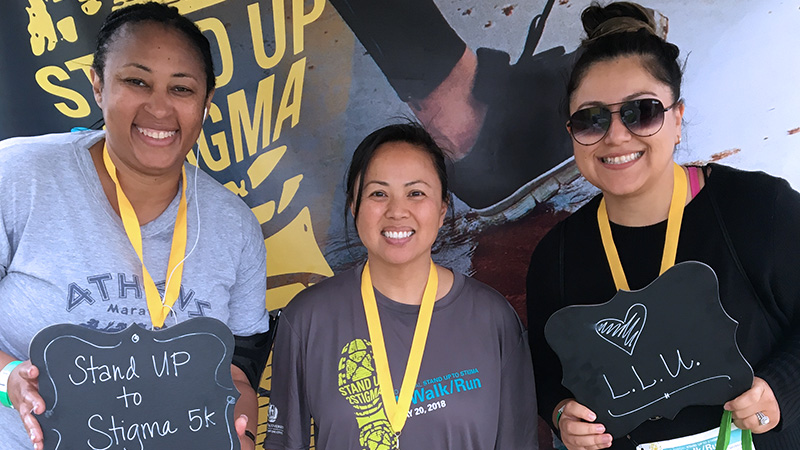 By Diana Krueger (Assistant to the Dean) - May 25, 2018
Last weekend, the School of Behavioral Health contributed as a sponsor to the Loma Linda University Behavioral Medicine Center's 2nd annual Stand Up to Stigma 5K Walk/Run, on May 20, 2018. The goals of the race were to raise awareness about the damaging effects of mental health stigma, to showcase the behavioral health services available in the community, and to raise funds for a new children's playground for patients at the Behavioral Medicine Center.
The three School of Behavioral Health departments held a friendly competition to see which department would have the highest participation. The Department of Psychology won the honor of having the most students participate, and was awarded the coveted running trophy. Students, alumni, and faculty enjoyed this event, which has roughly doubled in size since last year--to 600 runners and walkers!
Acknowledging and addressing behavioral health issues without attaching stigma is key. Data collated by the National Alliance on Mental Illness shows that:
One in five Americans (including children) will experience a mental health issue of some kind at least once in their lifetime.
Only 41% of adults in the United States with a mental health condition received mental health services in the past year.
More than 90% of children who die by suicide have a mental health condition.
Each day an estimate 18-22 veterans die by suicide.
As national Mental Health Month draws to a close, remember that mental health issues can be treated, and that stigma creates unnecessary barriers to treatment and recovery.
Thank you to everyone who contributed to making the 2nd annual Stand Up to Stigma 5K Walk/Run an amazing success!