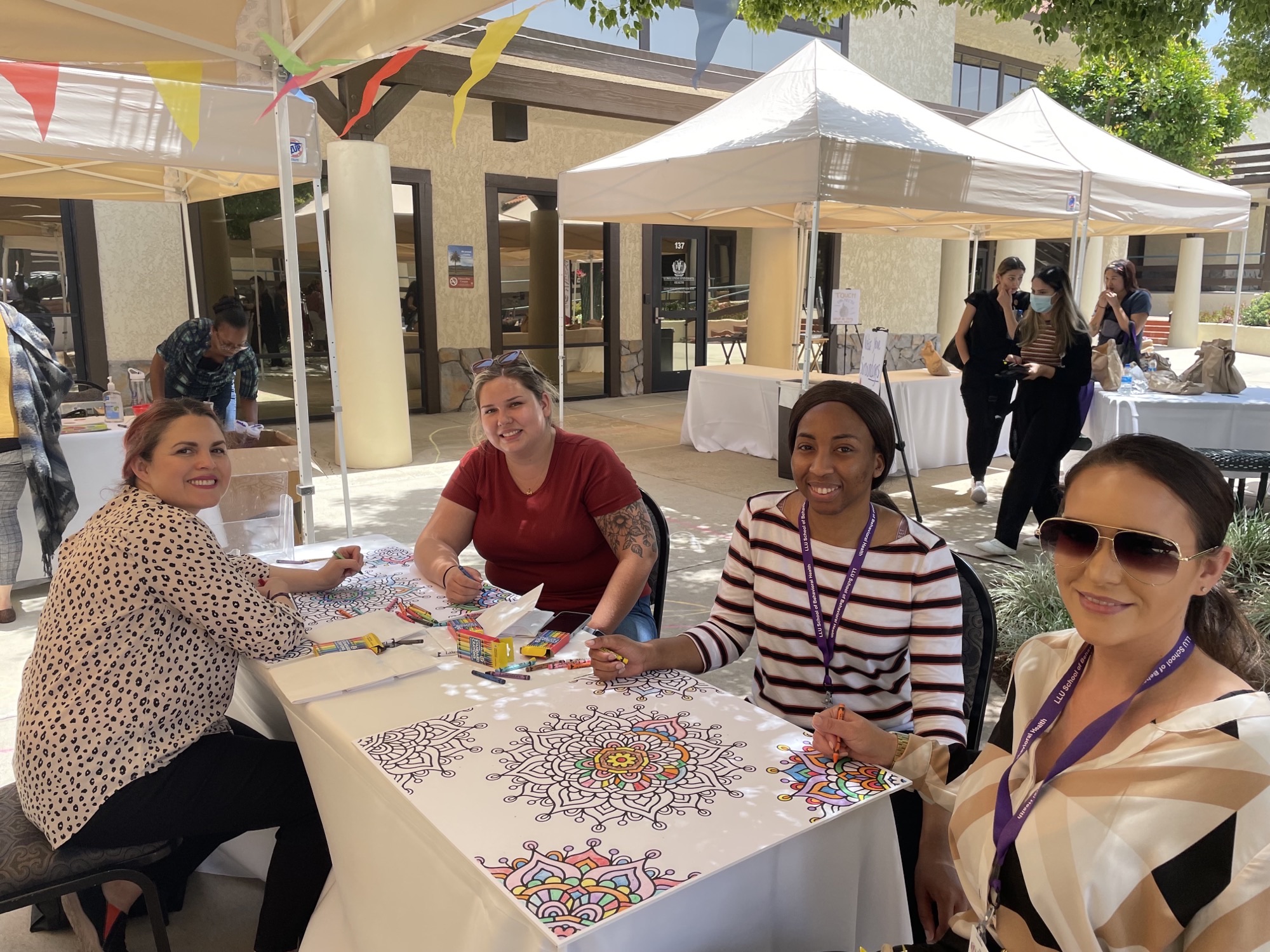 By School of Behavioral Health - September 29, 2022
On May 18, 2022, School of Behavioral Health faculty and students gathered for the first Self-Care Fair at our new research space at Mountain View Plaza! The purpose of this event was to help students consider tools that can help balance the care a mental health provider offers for others and self-care.
Our booths included information and experiences related to mental health, sleep, spiritual care, recreational and physical activities (such as free exercise classes available to all students at Drayson Center), and free psychotherapy sessions offered by the Student Assistance Program on campus. Other experiences included play and sensory activities like blowing bubbles and coloring, massage, virtual reality nature experiences, yoga, mindfulness, and a sound bath offered by the Psychology student Eric Christopherson! This self-care fair is part of a broader program to integrate self-care as part of becoming a mental health professional into our curriculum, including regular burnout assessment and monitoring each year.
The program also included a colloquium offered by Dr. Thomas Skovholt, author of The Resilient Practitioner: Burnout and Compassion Fatigue Prevention and Self-Care Strategies for the Helping Professions, as well as additional team-based Community Resiliency Model (CRM)® training for the SAC Health family medicine practicum trainees. As we learn more about the hurdles students face with self-care and burnout, we will provide even more training opportunities related to this topic.
This pilot year was funded by the Health Resources and Services Administration's (HRSA) Graduate Psychology Education (GPE) grant. Shout-out to the Psychology Student Wellness Team who are helping with this program (Zackary Brenes, Sophia Josemoan, Travis Perales, and Alexa Birch). Enjoy a few of the photos from our day together below!
Written by Professor Kelly Morton, PhD