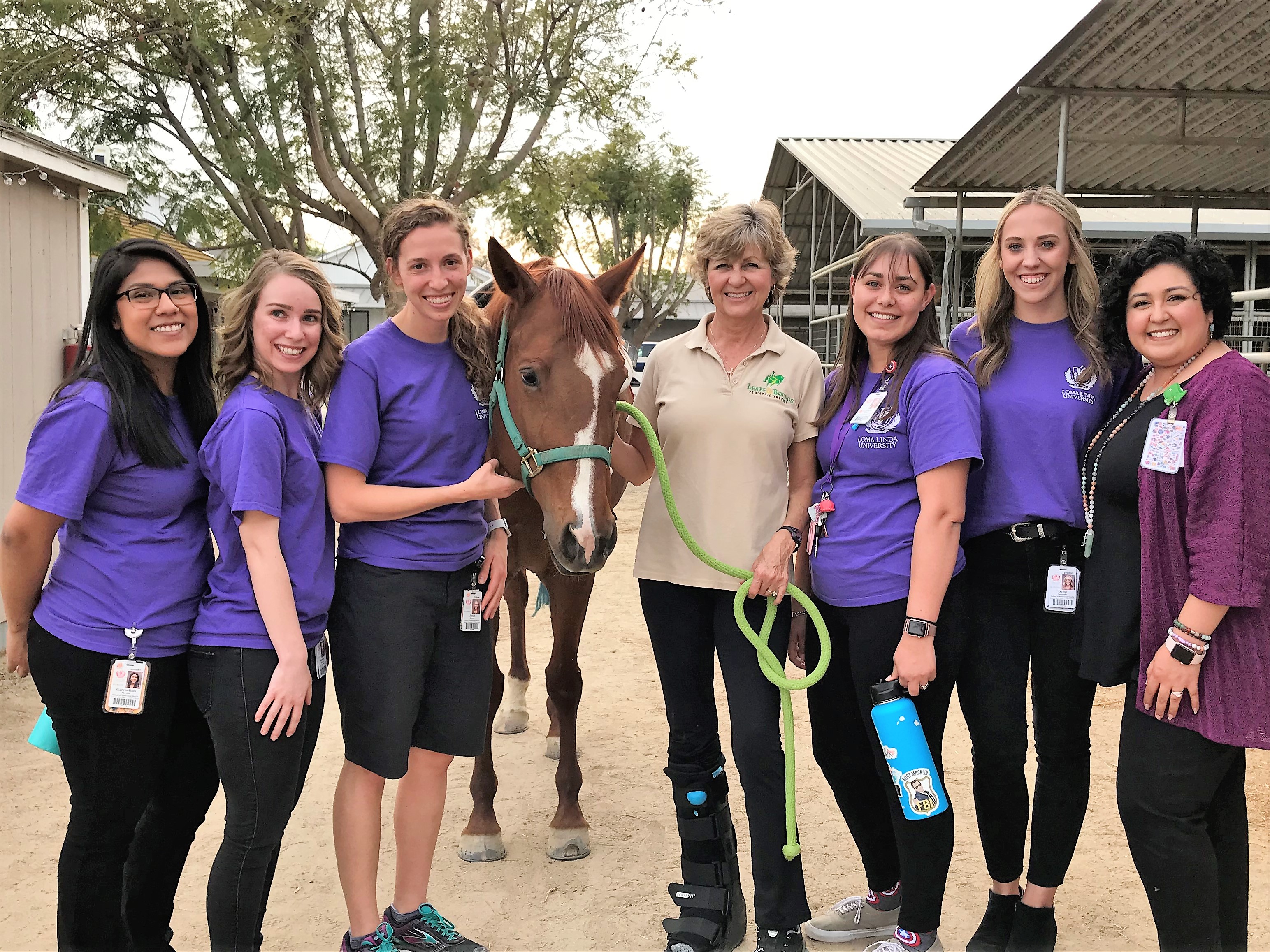 By Alisha Saavedra (Director of Clinical Training for the Child Life Specialist MS program) - May 13, 2019
Providing Health Care Play for Children and Siblings in a Pediatric Therapy Setting
On April 8, students and clinical supervisors from the Child Life Specialist MS program provided their first ever "Pony Clinic" at Leaps & Bounds Pediatric Therapy in Norco, CA. This unique pediatric therapy setting provides a variety of services, including physical, occupational, and speech therapy. Hippotherapy (the use of horseback riding as a therapeutic or rehabilitative treatment), adaptive riding, and horsemanship activities are utilized. Leaps & Bounds is distinctive in that their clinical facilities are on the same grounds as the ranch where patients experience hippotherapy and adaptive riding. Evidence shows that the use of horses in hippotherapy is highly beneficial for children with neuromuscular dysfunction and other medical conditions. This form of treatment strategy can support children in their development of balance, postural strength, motor skills, sequencing, and social skills.
LLU Child Life Specialist alumna Jo Flores is part of the Leaps & Bounds' ranch team as an adaptive riding instructor. Not only is she a Certified Child Life Specialist, but she is also certified by the Professional Association of Therapeutic Horsemanship International (PATH International). Utilizing equine-assisted activities, Jo continues to help children and adults with disabilities in their cognitive, physical, emotional, and social well-being. Jo is also a major advocate for parent and sibling support.
The Pony Clinic was created in an effort to provide an activity where siblings could also be involved and see where their brother or sister receives therapy services. Very similar to a Teddy Bear Clinic, children were provided with a stuffed pony who would then visit various stations where they learned about health through a pretend doctor's visit. The children also had the opportunity to discover the difference between human versus horse bones and were able to get a pretend cast on their finger if they felt comfortable doing so.
In all, 20 children and their families who receive services from Leaps & Bounds registered for and attended the event. Siblings could be overheard saying things like "Wow!" or "This is so cool!" The excitement and inclusion of the whole family was appreciated by those who attended as well as the staff of Leaps & Bounds. This was also a great opportunity for our Child Life Specialist students to expand and adapt their skill set as well as be a part of providing family centered care.
"I think Teddy Bear/Pony Clinics are fun, important, and educational. They can be incorporated in any setting involving children, and it's a great opportunity to teach children about immunizations, casts, blood pressure, and taking their weight, which can help ease their anxiety when going to the doctor's office."
-Maritsa Garcia-Rios, Child Life Specialist MS student
Everyone enjoyed this event so much that the goal is to collaborate with Leaps & Bounds in the near future to provide another Pony Clinic and perhaps extend the invitation to families from the local community to participate. See more photos from the Pony Clinic here!