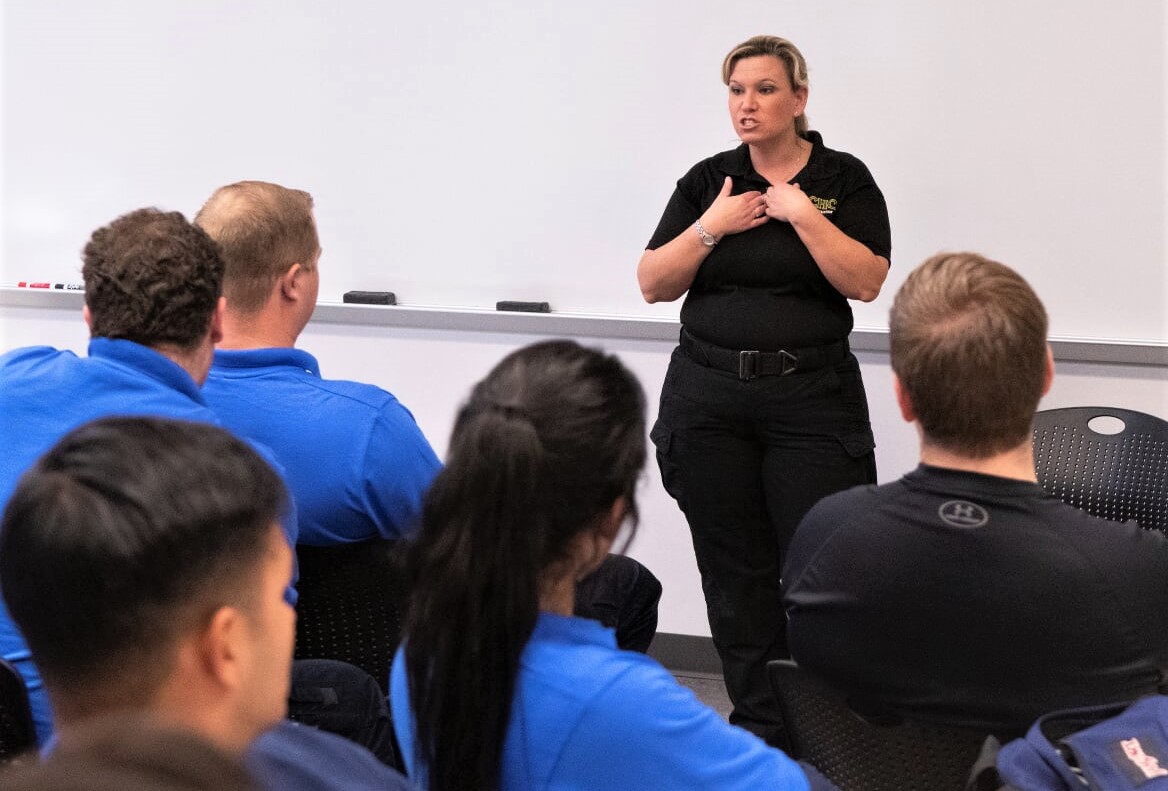 By Michelle Minyard-Widmann (Child Life Specialist MS program director) - March 10, 2020
When a child experiences an injury or illness that requires an ambulance ride to a hospital, it can be a traumatic event. Often, pre-hospital providers such as paramedics and emergency medical technicians (EMTs) have minimal knowledge of traumatic stress in children. They haven't been trained in utilizing coping techniques or the provision of psychosocial care to pediatric patients and their families.
Alumna Heather Saenz is working to change this. In 2001, she began her journey as an EMT at American Medical Response (AMR) in Redlands, the primary Emergency Medical Service system in Loma Linda, California and the surrounding cities. She then increased her clinical skills by working for Loma Linda University Health in outpatient urgent care as a patient care assistant before returning to her role as an EMT in critical care transport. During this time, Heather was hired to teach EMT skills classes at Crafton Hills College. Her passion for working with children and their families led her to the Child Life Specialist MS program in the School of Behavioral Health at Loma Linda University, where she completed her degree and was then hired as a per diem Child Life Specialist at Loma Linda University Children's Hospital (LLUCH). Here, she naturally gravitated to the Emergency Department.
Because of her background in emergency medical services, Heather serves as adjunct faculty, teaching classes of up to 40 EMTs and EMRs (Emergency Medical Responders) at Crafton Hills College, Victor Valley College, and College of the Desert. She also provides EMT and EMR training to high school students in Apple Valley High School and Oak Hills High School.
"As children," Heather says, "we get excited when we see a fire truck, ambulance, or police car. However, when that same vehicle responds to an emergency involving one of their family members or themselves, it creates a sense of fear and anxiety. EMS personnel are the first ones to interact with pediatric patients in these anxiety-provoking situations. As an EMT, Child Life Specialist, and EMS instructor, I feel it is very important to give responders the skills that help reduce the anxiety children feel during these unfamiliar and very scary situations--and to bring back the excitement they initially had."
Training of EMS students encompasses utilizing child life assessment to help children understand what is happening to them. These techniques include explaining that the IV is a "little straw" or that a tourniquet may "feel tight." EMS students are also taught to use distraction techniques, such as showing the child a video on a phone or talking about their favorite cartoon or video game. "Rapport-building is essential when working with children in a stressful situation," says Heather. She also promotes the use of comfort holds so that children do not have to be restrained. This gives caregivers an active role in their child's care by having them sit on their parent's lap while hugging them during a procedure.
Because of the number of challenges that can compromise the mental health and well-being of EMS providers, Heather also addresses the topics of self-care and PTSD. Additionally, she is actively creating a death/dying resource manual for EMS providers to assist families when a death occurs at home or in the field.
"Heather's work in EMS is innovative and unique. She is bridging the professions of child life and EMS, with the goal of promoting psychosocial care for pediatric patients and their families," says Child Life Specialist MS program director Michelle Minyard-Widmann. "When Heather started the program, we knew she had something different to bring to the field and we're excited to see where this leads her."