By School of Behavioral Health - May 1, 2023
In honor of Mental Health Month, we are pleased to feature this important mental health awareness post from Counseling and Family Sciences student John Lou.
The Adolescent Depression Awareness Program (ADAP) educates high school students, teachers, and parents about teenage depression, a mental illness strongly linked to teenage suicide. Currently, an estimated 4.1 million adolescents aged 12 to 17 in the United States reported at least one major depressive episode, representing about 17% of the U.S. population, and about 2.8 million adolescents (or about 12% of the U.S. population) experienced a major depressive episode with severe impairment. Through a multi-modal teaching curriculum, ADAP seeks to promote improved depression literacy through teaching about symptoms, systemic factors, and treatment options that focus on help-seeking behavior.
When I was a graduate student at Johns Hopkins University, I learned about ADAP from Dr. Karen Swartz, psychiatrist and professor in the Department of Psychiatry and Behavioral Sciences, and founder of the ADAP program. Her passion for ADAP's national expansion opened doors for psychiatry residents at Loma Linda University (LLU) to get certified and teach ADAP to students in Sierra High School in San Bernardino, a continuation school with students at risk for academic failure. LLU now has a long-standing community partnership with Sierra High School sending instructors from the LLU Psychiatry Residency program, LLU School of Medicine, and LLU School of Behavioral Health to teach ADAP as part of an embedded module in the students' academic curriculum.
My experience teaching ADAP started shortly after the height of the COVID-19 pandemic, when there were lingering bouts of depression, anxiety, and traumatic stress from the isolation, especially among adolescents. During my very first ADAP class, there were two students who self-dismissed themselves in the middle of the presentation due to the triggering effects of the discussion regarding suicide. At Sierra High School, many adolescents experienced adversity at home and/or at school and consequently, suffered academically, socially, and emotionally. Surprisingly, almost every student in every one of my classes acknowledged that they knew another adolescent who had contemplated suicide. Unsurprisingly, the isolation and disruption to "normalcy" during the pandemic exacerbated their prior existing problems, and more teenagers turned to drugs and alcohol abuse, which was already a common remedy to manage depression and stress. Empathizing with the heavy burden adolescents faced, I was motivated to teach about how depression and mood disorders were mental illnesses that were treatable through help-seeking behaviors, and the ADAP curriculum offered an ideal match.
In the three-day, one-hour curriculum, there was flexibility in teaching the materials using the strengths of the instructor. Whereas medical students or residents discussed mechanisms and scenarios involving medications, I focused on personal responsibility toward making healthy decisions, toward timely utilization of systemic and individual resources, and toward understanding important facets of health behavior, such as motivation and health beliefs. Keeping in step with the recent push toward integrated health care, the structure of ADAP allowed for the incorporation of teaching about systemic resources, behavioral indicators, and social dynamics—all specialized knowledge of behavioral health providers—alongside the medical model approach that aligned with the training of physicians, which possibly explained how and why the program has aged appositely since its inception in 1999.
To conclude, ADAP is an important community service collaboration that offers education to a population germane to the growing crisis of mental health needs, especially involving depression and mood disorders. The effectiveness and success of the program nationwide is highlighted in the recent literature, and I am proud that LLU is a collaborating partner to offer the high quality and much needed curriculum to our community in San Bernardino. The hope and reassurances that we provide to the adolescents can extend far beyond the time, energy, and commitment to teaching the materials. The impact can be significant not just for present students, but also for future generations. We all may not have been diagnosed with major depressive disorder (MDD), but we all experience depression. ADAP simply helps us, students, parents, teachers, faculty, and community members become aware of the difference between both types of depression experienced by adolescents, and to provide to them the necessary resources to stem the tide of the crisis, which continues to be my mission as a committed provider, educator, and life-long learner in behavioral health.
Written by John Lou, Systems, Families, & Couples PhD student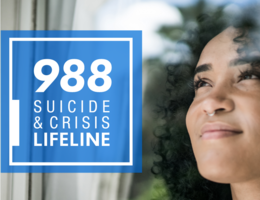 Anxious? Depressed? Text 988 to chat with a trained crisis counselor for free.
Visit Website