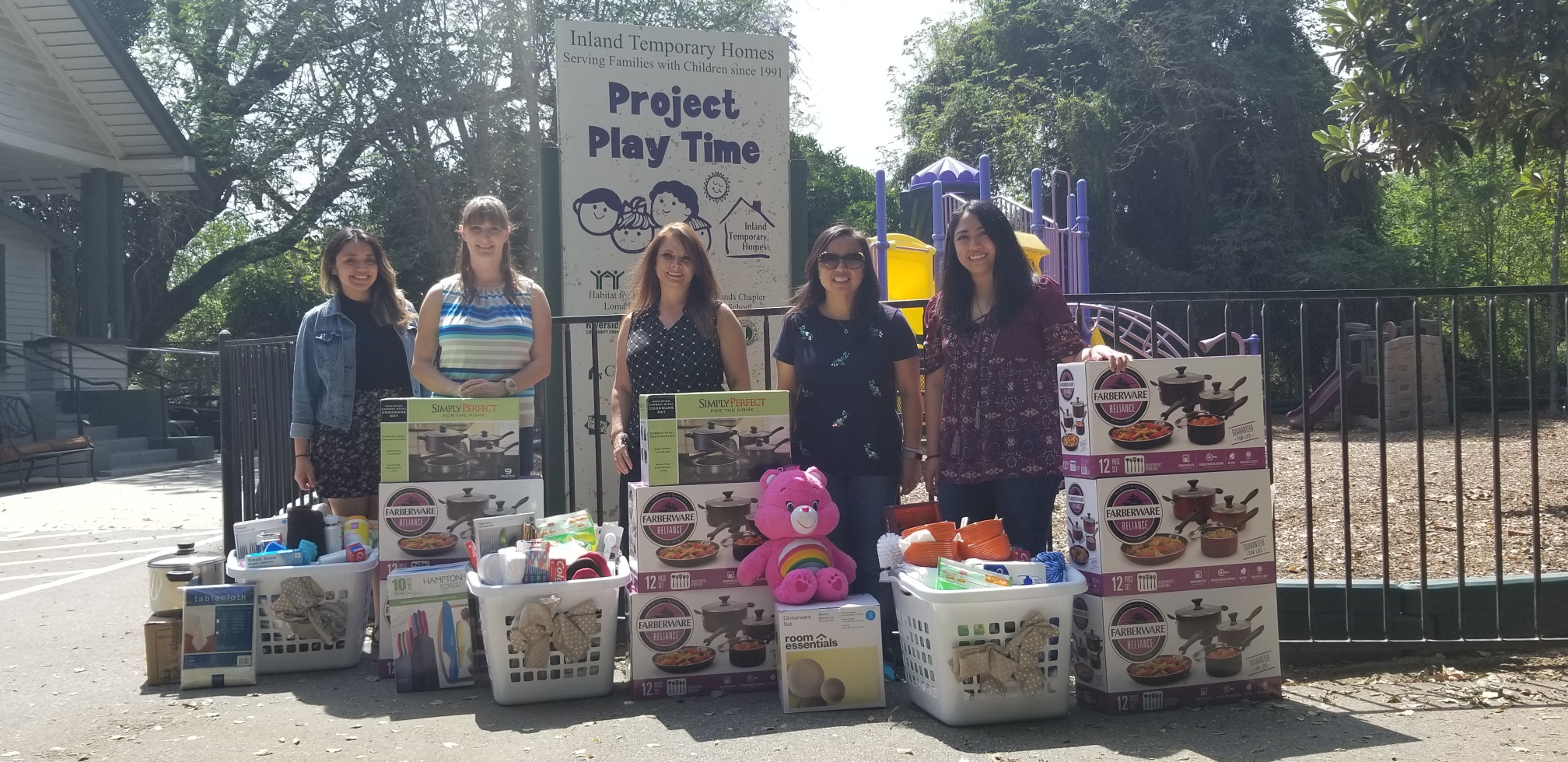 By Tori Dang (Class of 2018 and outgoing Phi Alpha President) - August 20, 2018
Promoting the social work core value of service, the Phi Alpha Honor Society, Iota Pi Chapter's finale for the academic year was the "Laundry Gift Basket" project benefiting homeless families transitioning into permanent housing. Members of the Honor Society were aware that the cost of obtaining household essentials was prohibitive for many homeless families, so Phi Alpha partnered with Inland Housing Solutions (formerly known as Inland Temporary Homes) to provide some needed items. A nonprofit committed to preventing and bridging the gap of homelessness in San Bernardino, Inland Housing Solutions provides housing, case management, and other supportive services. For this project, Iota Pi collected household goods such as tableware and cookware, and essentials such as cleaning, laundry, shower, and oral hygiene supplies. Through a Target registry, social media, and email distribution requesting household goods, donations, and gift cards, the project supported a total of ten families! Donations of handmade blankets made by local senior citizens were also contributed, along with dolls, additional gift cards, and even monetary gifts, which were made directly to Inland Housing Solutions in honor of the Phi Alpha Honor Society, Iota Pi Chapter.
Taking a systems approach to this year's Iota Pi service to the community, connections were made with alumni and faith-based organizations, reinforcing existing ties in the local community. With the support of alumni, the Loma Linda Medical Center's Kidney Transplant Department collectively assisted one family. The Community-Academic Partners in Service (CAPS) department at Loma Linda University also generously supported one family. In addition to providing a total of ten families with gift baskets, the project also allowed officers to present the idea of a household good drive and registry to other faith-based organizations involved in City of Riverside Mayor Rusty Bailey's Love Your Neighbor initiative.
The outpouring of love and support for the Laundry Gift Basket drive was humbling. Thanks to Dean Buckles, faculty, staff, students, friends, and families of the LLU Social Work Department for your support. Collectively, we helped make many families "whole" again. Click here to view more photos from the laundry gift basket project!