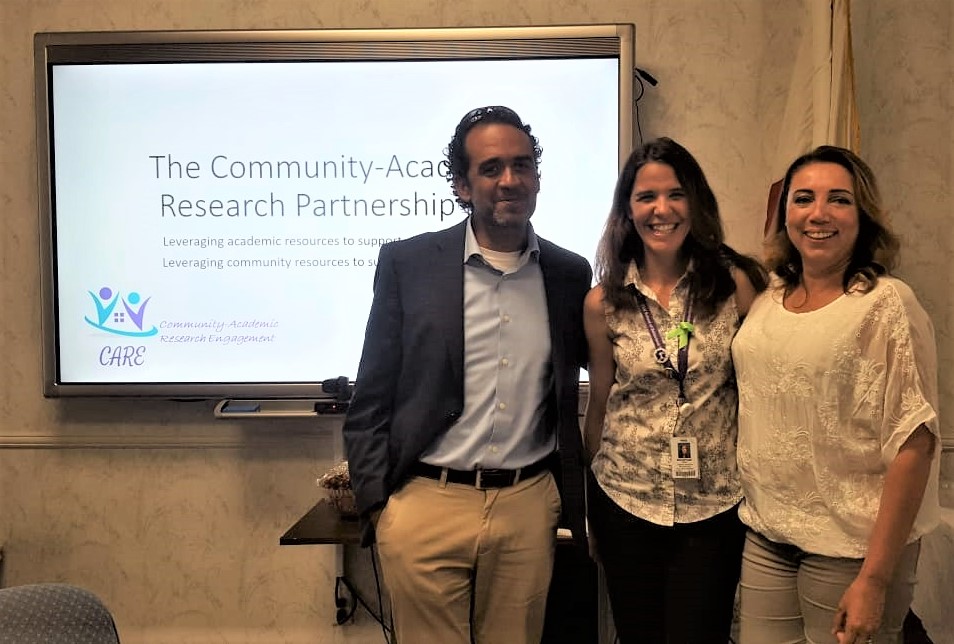 By School of Behavioral Health - July 2, 2019
Dr. Maya Boustani was invited to the Institute for Community Partnership (ICP) spring quarter town hall meeting to discuss how she developed a partnership with the San Bernardino City Unified School District (SBCUSD). Along with school counselor and community partner Ms. Yesenia Ceballos, Dr. Boustani reflected on how the ICP facilitated the initial connection. Relationship building efforts since then have led to a solid partnership with SBCUSD Student Services. She highlighted how she was able to match the clinical training needs of her students with mental health needs in the schools. In particular, she reviewed how she was able to develop this partnership within the context of her work duties such as teaching, clinical supervision, and research mentoring.
Dr. Boustani's clinical psychology doctoral students are able to spend one year at Sierra High School and provide a variety of school-based mental health services within their Wellness Center. The doctoral students are expected to take one of two summer classes. The first is a modular, transdiagnostic cognitive behavioral therapy (CBT) class in which they learn evidence-based strategies to treat anxiety, depression, trauma, and conduct problems in youth. The second is a dialectical behavioral therapy (DBT) skills training class, in which students learn evidence-based strategies to help youth regulate their emotions, improve their interpersonal skills, promote their distress tolerance, and learn mindfulness skills. Once students complete one or both of the classes, they may begin to see youth at the school in individual or group therapy, under the supervision of Dr. Boustani. This arrangement removes many barriers for school students to receive services, including reduced stigma and the elimination of transportation issues.
Along with innovative and "real-world" clinical training opportunities, the LLU students are able to conduct their doctoral research projects, either using existing school-wide or district-wide databases or by implementing new research studies in the context of school mental health. Dr. Boustani's students have launched doctoral projects such as a needs assessment of the school and a program evaluation of new services. Overall, the partnership has been a win-win for both SBCUSD and the Department of Psychology!