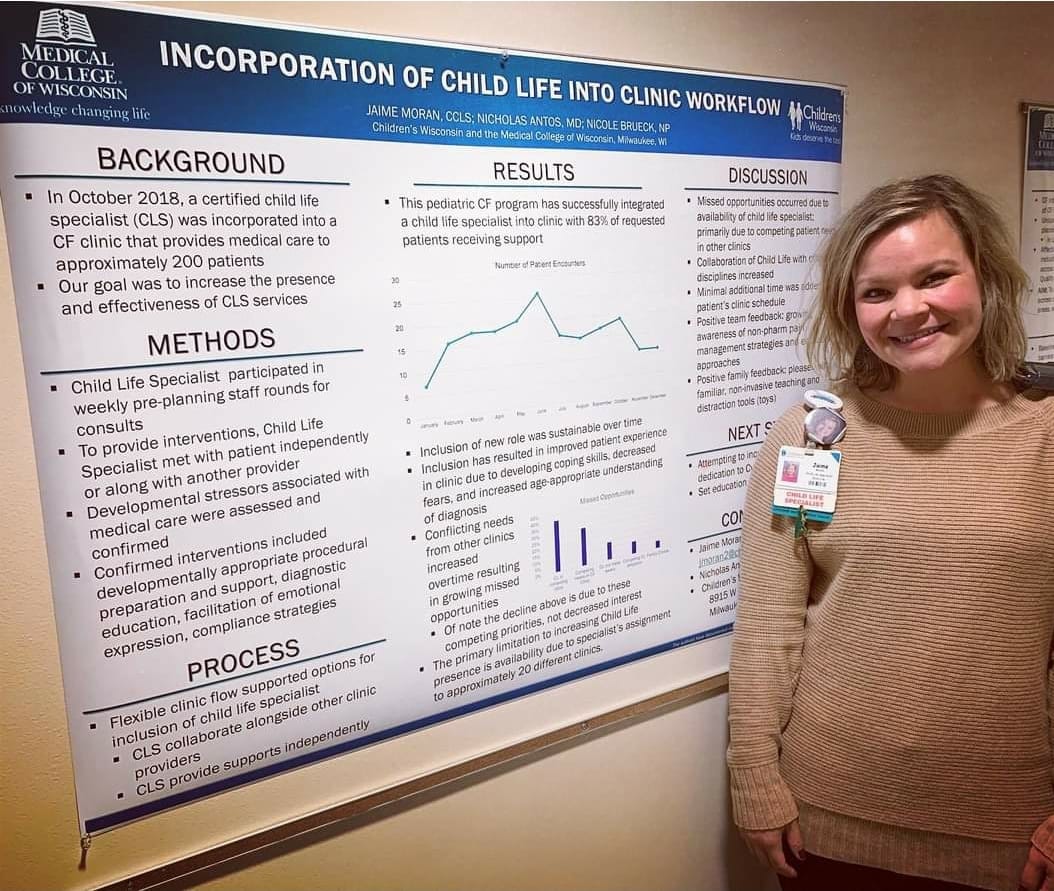 By Jaime Moran, MS and CCLS (Child Life Specialist MS Class of 2012) - November 2, 2020
As a Child Life Specialist, I'm always prepared to explain my role and rationalize the need for Child Life interventions in the medical journeys of pediatric patients. Our role is not always easily understood. In fact, Child Life services remain widely unknown around the globe. Awareness of the psychosocial needs of pediatric patients continues to increase, and active areas for growth and use of the field include Asia and the Middle East. Due to all of this, I was enthusiastic about the opportunity in 2018 to attempt to increase Child Life presence and develop Child Life programming in outpatient specialty clinics within the Milwaukee community.
After presenting at a Children's Wisconsin nursing conference in the fall of 2018, a Cystic Fibrosis nurse practitioner sought Child Life participation in clinic. The rest is history! Just kidding—while it took a few months to find my place in clinic and navigate the day to day flow, I am grateful to report that the team readily accepted me and my interventions. My primary goals and roles include helping patients understand their diagnosis in a developmentally appropriate way, ensuring that they have coping plans, and that they develop coping skills for the various procedures they endure throughout the life-span of treatment. Secondary goals include introducing and considering incentive systems to increase compliance (as needed) and facilitating emotional expression.
One day, one of the doctors said, "You should submit your data to conference." Another said, "It's not hard." This was funny to me for a couple of reasons: 1) my work supports psychosocial needs and I tend to focus on qualitative outcomes, and I thought this required a different type of data collection and explanation; and 2) it was hard (for me).
With the primary support of Dr. Nicholas Antos, I was able to develop an abstract and, after it was accepted for poster presentation, create a poster and narrate slides for the virtual conference. While I often felt a bit lost in the process (the submission and presentation expectations for the North American Cystic Fibrosis Conference felt so different from those of the Association of Child Life Professionals annual conference!), I have learned lessons that will support a new type of participation in my field. I now better understand the implementation and data collection of Quality Improvement work. While I still need help wrapping my head around the "loose structure of what a poster can be," I think it's fair to say that I generally understand the differences between "methods," "process," "results," and "discussion"—finally! Most importantly, I will now often utilize a lens that focuses outcomes, sustainability, and the opportunity to facilitate positive change.