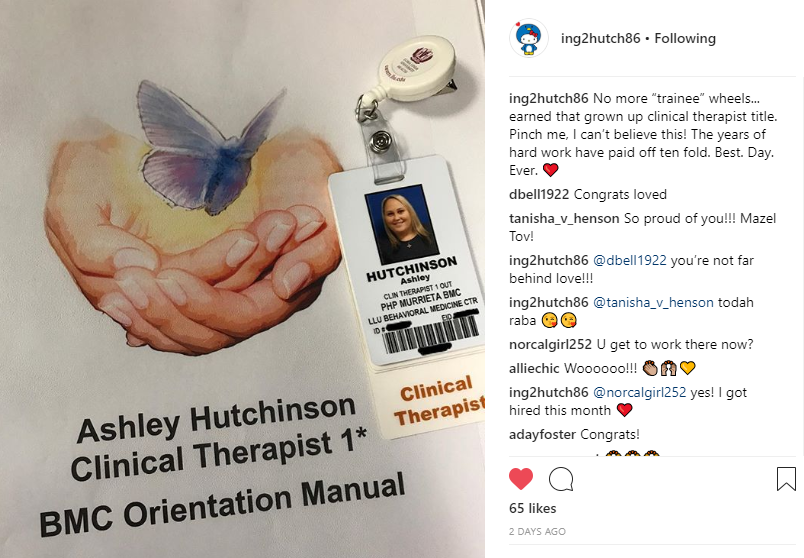 By Ashley Ingram Hutchinson (Class of 2018) - September 4, 2018
When I made the choice to come to Loma Linda University, I knew that being in a practicum that was exclusively clinical was important to me. I also knew that I wanted to work in a psychiatric facility. The first time I met Professor Forrester, he explained what options I had after getting to know more about the sort of social worker that I wanted to be. He immediately recommended that I interview at the LLU Murrieta Campus Behavioral Medicine Center when he realized how much I loved psychotherapy. I interviewed for the position as an intern and immediately heard back from the program director that I had earned a spot on the team for my internship. It was merely icing on the cake that the internship of my dreams was minutes from home!
For both years of grad school, I was in practicum here at the Murrieta BMC. My responsibilities as an intern included facilitating group therapy sessions, CBT and DBT psycho-education sessions, bio-psycho-social-spiritual assessments, creating care plans and discharge plans, and doing what social workers love doing most: creating a massive resource guide that connected our patients to numerous resources across the Temecula Valley and Northern San Diego County. Those resources included support groups, food pantries, local therapists, places to volunteer, and military outreach organizations as Murrieta is home to a large active duty population. I was able to attend treatment team meetings with our psychiatrists, nurses, and therapists. In those meetings, I learned the importance of working in an interdisciplinary medical/clinical team setting on a weekly basis. Even as a student, I was always treated like another therapist with value on the team. At graduation time, I knew that there was no other place I wanted to work than at the Murrieta BMC.
As a Loma Linda alumna, I really value the clinical emphasis of our curriculum. Having an advanced clinical focus truly sets us apart from other MSW programs. After applying for my ACSW number, I applied for a clinical therapist position just weeks after graduation. After being offered an interview, I received the call shortly after that I had been offered the job! After that call, I had this vivid flashback of Professor Forrester talking to me about the importance of connecting a new social worker to a mentor social worker. With great joy he said, "Your supervisor Renee was one of my students and graduated from our program. You two will be an awesome match, I just know it." Boy, was he right. Renee is everything a social worker should be. She is kind, loving, and always gives you the time you need as a student to be the best you can be. Today, I consider Renee not only a mentor, but a dear friend. Even after just three weeks as an employee, I have to say, I could not be more grateful for the social work department, the education I received, and feeling of truly being "at home" in my job. I really have to stop and pinch myself. All of the hard work I put into grad school paid off!