MS in Marital and Family Therapy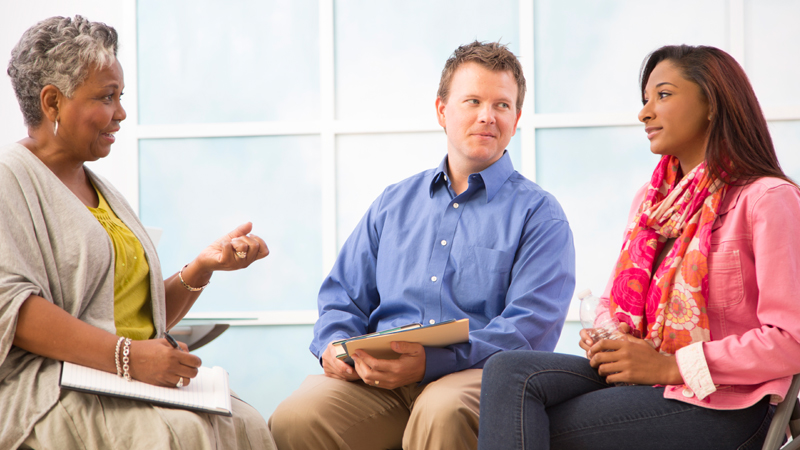 Admission
Applicants to the MS in Marital and Family Therapy must meet the admission requirements outlined in the University Catalog and give evidence of academic ability, professional comportment and mature judgment.
Requirements
Entrance quarters: Students will be admitted in autumn and winter quarters. With special permission, a student may be permitted to enter spring or summer quarter.
Students wishing to apply master's degree level coursework completed at a regionally accredited school prior to application must provide applicable transcripts and/or syllabi. In addition to completing the required application forms, students should provide character and academic references and take the Critical Essay Examination.
General Admission Information
Grade point average: Applicants must have a bachelor's degree from a regionally-accredited institution in any field. Candidates must have a minimum of 3.00 GPA in the last 45 quarter credits (30 semester units) of coursework completed before applying for admission, or in all undergraduate work whichever is higher.
Letters of Recommendation
Applicants must submit three letters of recommendation: (a) at least two from persons professionally qualified to recommend for a field of this nature and (b) at least one from a person qualified to evaluate according to ability. Letters from friends or relatives will not be accepted.
Interview
Students will be invited for a group or individual interview. Under special circumstances a phone interview will suffice.
Admission Procedures
All students are admitted on a provisional status until completion of 18-quarter units. Upon completion of 18-quarter units, all teaching faculty responsible for determining readiness for the clinical phase of the program will evaluate each student. The clinical phase requires a student be admitted to a six-quarter practicum sequence while being supervised as a trainee in a clinical site.
COAMFTE Student Achievement Outcomes
In accordance with the standards of the Commission on Accreditation of Marital and Family Therapy Education (COAMFTE), the program tracks student outcomes such has how many students complete the program in the expected time, success on the licensure exam, and graduates MFT licensure rate. Loma Linda graduates do very well. Access this information on the COAMFTE webpage. Our graduates are also successful in their careers. For additional information such as the kinds of jobs they hold and the kinds of research projects they are engaged in go to the "Our Learning Environment" sidebar on the left.
Purpose
The marital and family therapy program leads to the master of science degree and is designed to give students a broad academic background as well as professional practice for working with individuals, couples, and families in a variety of settings. These include, but not exclusively, medical, legal, educational, mental health, managed care/HMO, private practice, and church settings. The program offers various certificates of study in addition to the main MS curriculum. The certificates have been designed to enhance the student's scope of practice. A certificate can add units and clinical hours to the existing 90-unit MS degree. These certificates include, but are not limited to:
Professional Opportunities
An individual with the MS and track emphases can work as an administrator, educator (at a community or four-year college), psychotherapist, consultant, medical family therapist, and alcohol and drug specialist. They can also work in case management, family court, group homes, private practice, public mental health agencies and professional organizations.
Marriage and Family Therapy License
Marriage and family therapy is established in California by law as a profession requiring state licensure. Persons who desire to enter the profession must have the proper academic and clinical preparation and must pass the written and oral licensing examinations. There are 50 states that provide a licensure or certificate for marriage and family therapists. Requirements for each state can vary, but California standards have been considered among the most rigorous. Please refer to each state's licensing board for the variation in requirements. In some states a marriage and family therapist qualifies for a psychology or counselor license. The master's degree program at Loma Linda University provides the academic requirements to meet the California licensing standards according to Business and Professions Code 4980.36 and 3980.37.  Refer to the website tab "California Board of Behavioral Sciences" for information on the Codes.
Accreditation
The Western Association regionally accredits the program for Schools and Colleges (WASC), and the Commission on Accreditation for Marriage and Family Therapy Education (COAMFTE) nationally accredits the program. The Commission on Accreditation is the standard-setting organization for family therapy designated by the department of education.
Full-time and part-time sequences
The program offers options for full-time (2 years) and part-time (3 years) sequences, but in exceptional circumstances students have up to five years to complete the degree. Courses are held during afternoon or evening hours. Typically first-year courses are held on Tuesday and Thursday, and second-year courses on Monday and Wednesday.
Degree completion
Requirements for the master of science degree include the following:
Residence of at least two academic years.
A minimum of 90 quarter units of graduate work, which includes credit received for core courses, electives, and a 3-unit religion course.
Practicum in marriage and family therapy. A minimum of 500 direct client-contact hours and 100 direct supervision hours are required. Of the direct client-contact hours, at least 250 hours must be with couples and families. Of the direct-supervision hours, at least 50 hours must be with raw data (video, audio, and live supervision). For every week in which clients are seen, the student must have at least one hour of individual supervision.  Of the 500 hours, 100 are alternative hours (client-advocacy, documentation and personal therapy).  The ratio of supervision hours to treatment hours must not be less than one hour of supervision to five hours of clinical contact. Clinical training, as defined by the Commission on Accreditation for Marriage and Family Therapy, includes a minimum of twelve continuous months in a clinical traineeship.
The student gets to select the placement site upon the approval of the director of clinical training.
Successful completion of a written comprehensive examination (taken before advancement to candidacy) and an oral examination (taken at the end of the program).
Clinical services
The Behavioral Health Institute is a combined clinic of marriage and family therapists, psychologists, psychiatrists, social workers, counselors, child life specialists, family life educators and other health professionals.  This clinic provides counseling services to individuals, couples, and families and provides the opportunity for clinical practice for MFAM student trainees and interns.  The student's field experience and traineeship may be taken at other clinics in Riverside, San Bernardino, and Orange County areas.  Paid traineeships are available.  The Stipends Award is given to masters in science students in the marriage and family therapy program.  Students who receive this award are granted a sum of $18,500 or less (stipend award).