MS in Marital and Family Therapy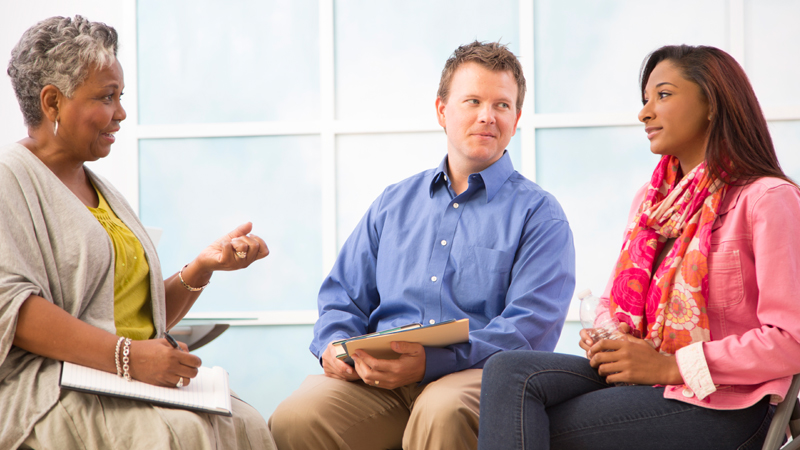 Program Director: Mary E. Moline, DrPh, PhD, MPH, MS
Admission
Applicants to the MS in Marital and Family Therapy must meet the admission requirements outlined in the University Catalog and give evidence of academic ability, professional comportment and mature judgment. For information on how to apply, please visit our Admissions FAQ page.
Purpose
The marital and family therapy program leads to the master of science degree and is designed to give students a broad academic background as well as professional practice for working with individuals, couples, and families in a variety of settings. These include, but not exclusively, medical, legal, educational, mental health, managed care/HMO, private practice, and church settings. The program offers various certificates of study in addition to the main MS curriculum. The certificates have been designed to enhance the student's scope of practice. A certificate can add units and clinical hours to the existing 90-unit MS degree. These certificates include, but are not limited to:
Professional Opportunities
An individual with the MS and track emphases can work as an administrator, educator (at a community or four-year college), psychotherapist, consultant, medical family therapist, and alcohol and drug specialist. They can also work in case management, family court, group homes, private practice, public mental health agencies and professional organizations.
Marriage and Family Therapy License
Marriage and family therapy is established in California by law as a profession requiring state licensure. Persons who desire to enter the profession must have the proper academic and clinical preparation and must pass the written and oral licensing examinations. There are 50 states that provide a licensure or certificate for marriage and family therapists. Requirements for each state can vary, but California standards have been considered among the most rigorous. Please refer to each state's licensing board for the variation in requirements. In some states a marriage and family therapist qualifies for a psychology or counselor license. The master's degree program at Loma Linda University provides the academic requirements to meet the California licensing standards according to Business and Professions Code 4980.37 and 4980.36.  Refer to the California Board of Behavioral Sciences for information on the Codes.
Program Mission and Values
Program and Goals
The MS degree in marital and family therapy is designed to give students a broad academic background as well as professional practice for working with individuals, couples, and families in a variety of settings. These include, but are not limited to, medical, legal, educational, community mental health, managed care, church settings and private practice. Education and training is offered with the purpose of preparing students to be effective with a variety of mental health problems such as co-occurring disorders, serious emotional disorders, crisis care, chronic and/or serious mental illness, child and elder abuse, emancipation issues, and homelessness and complex relational issues. Great care is taken to include training that addresses issues of cross-cultural awareness, diversity, law and ethics, systemic approaches to treatment along with other evidence based modalities, life-span development, family and community systems, community integration for support and resources, collaborative case coordination, and a focus on elimination of discrimination and stigma of mental illness.
Mission and Philosophy
The program's mission is to prepare practitioners who will promote the health, hope, healing and well-being of diverse individuals, couples, families, and communities. The master's mission, vision and values reflect the mission, vision and values of the University and Department. 
Vision
The program's vision is congruent with the university and department mission and states that "MFT students will learn how to 'make diverse families whole'. Families include different family structures such as; single parent and divorced families, families headed by grandparents, bi-racial couples, families with special needs. This vision supports the notion that transforming relationships in diverse families is essential. Diversity being a key concept in training masters students to work effectively with diverse populations,
Values
The program adopted five values as central to its view of education. These values reflect many of the University values and include:
Compassion—the sympathetic willingness to be engaged with the needs and sufferings of others. Among the most memorable depictions of compassion in Scripture is the story of the Good Samaritan.
Integrity—the quality of living a unified life in which one's convictions are well-considered and match one's actions. Integrity encompasses honesty, authenticity, and trustworthiness.
Excellence—the commitment to exceed minimum standards and expectations.
Freedom—the competency and privilege to make informed and accountable choices and to respect the freedom of others. God has called us not to slavery but to freedom.
Justice—the commitment to equality and to treat others fairly, renouncing all forms of unfair discrimination.
Accreditation
The Western Association regionally accredits the program for Schools and Colleges (WASC), and the Commission on Accreditation for Marriage and Family Therapy Education (COAMFTE) nationally accredits the program. The Commission on Accreditation is the standard-setting organization for family therapy designated by the department of education.
COAMFTE Student Achievement Outcomes
In accordance with the standards of the Commission on Accreditation of Marital and Family Therapy Education (COAMFTE), the program tracks student outcomes such has how many students complete the program in the expected time, success on the licensure exam, and graduates' MFT licensure rate. Loma Linda graduates do very well. Our graduates are also successful in their careers.
Full-time and part-time sequences
The program offers options for full-time (2 years) and part-time (3 years) sequences, but in exceptional circumstances students have up to five years to complete the degree. Courses are held during afternoon or evening hours. Typically first-year courses are held on Tuesday and Thursday, and second-year courses on Monday and Wednesday.
Degree completion
Requirements for the master of science degree include the following:
Residence of at least two academic years.
A minimum of 90 quarter units of graduate work, which includes credit received for core courses, electives, and a 3-unit religion course.
Practicum in marriage and family therapy. A minimum of 500 direct client-contact hours and 100 direct supervision hours are required. Of the direct client-contact hours, at least 250 hours must be with couples and families. Of the direct-supervision hours, at least 50 hours must be with raw data (video, audio, and live supervision). For every week in which clients are seen, the student must have at least one hour of individual supervision.  Of the 500 hours, 100 are alternative hours (client-advocacy, documentation and personal therapy).  The ratio of supervision hours to treatment hours must not be less than one hour of supervision to five hours of clinical contact. Clinical training, as defined by the Commission on Accreditation for Marriage and Family Therapy, includes a minimum of twelve continuous months in a clinical traineeship.
The student gets to select the placement site upon the approval of the director of clinical training.
Successful completion of a written comprehensive examination (taken before advancement to candidacy) and an oral examination (taken at the end of the program).
Tuition and Fees
Current tuition and fee rates can be found here.
Clinical services
The Behavioral Health Institute is a combined clinic of marriage and family therapists, psychologists, psychiatrists, social workers, counselors, child life specialists, family life educators and other health professionals. This clinic provides counseling services to individuals, couples, and families and provides the opportunity for clinical practice for MFAM student trainees and interns. The student's field experience and traineeship may be taken at other clinics in Riverside, San Bernardino, and Orange County areas. Paid traineeships are available. The Stipends Award is given to masters in science students in the marriage and family therapy program. Students who receive this award are granted a sum of $18,500 or less (stipend award).